You want to serve others and live life to the fullest, enjoying the sweet nectar of every moment. 
The truth is that you don't really feel 100% alive or 100% like yourself.
Despite owning a larger collection of personal growth books than your local bookstore, you still feel overwhelmed, sleep-deprived, and disconnected from others and the magical juju of the universe.
And that dream business you wanted… it feels like it's taking over your life.
What you need looks more like "soul-care" than just "self-care."
What you want is  more out of life.  So. Much. More.

More love and connection.
More passion and inspiration..
More laughter and joy.
More stillness and peace.
More wonder and miracles.
More meaning and fulfilment.
You want to experience more of ALL of this, but…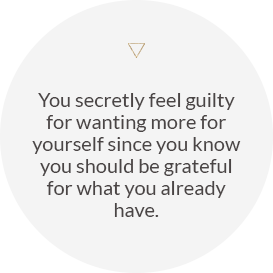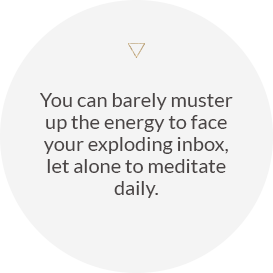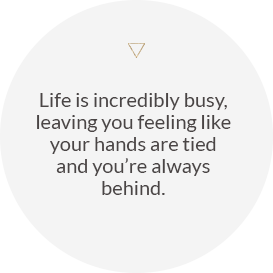 Have you been fantasizing about running away to a tropical island where you can shrug off all responsibilities, and simply breathe and be, guilt-free?
Or have you been daydreaming about making a big contribution in the world on your terms – without having to sacrifice precious time with your loved ones or your own wellbeing?
There's no shame in wanting to hit the pause button on your life or wanting more for yourself, lovely – even if to the outside world (an on social media) it looks like you have it all together.

Life isn't meant to feel like a long list of goals to tick off so someday you can have a life you love – you can choose this life for yourself right now, this very moment.
You can choose joy.
You can choose space.
You can choose ease + grace.
Whether you're changing the world, changing diapers, or both – you can choose.
Imagine what it would be like to:
Experience half of the anxiety, self-doubt, and guilt you feel on a daily basis 

Double the amount of time for what matters most so you can stop feeling busy all. the. time.

Feel like your energy, body, and intuition are on your side, as well as the universe 

 

Have less of those teary "I'm failing" meltdowns and bounce back from them more quickly
The Radiance Within
With

The Radiance Within

, I support you to feel alive in your body, energized by your work, and deeply connected to yourself and your loved ones – 
finally f
ree to experience your life in all of its fullness.
You'll step into a new way of being, 
releasing unnecessary busyness and sacrifice and creating your own passionate, playful, and purposeful path to real fulfilment.  
"I reached out to Catarina at a time when I was feeling off balance in my life. Since working with her I'm much calmer, more confident, and not as emotionally reactive. I also feel lighter and happier, and others have commented that they've noticed this shift in me too.
Her support helped me move outside my comfort zone and try new things I otherwise wouldn't have. I value her holistic view and how she weaves in spirituality in a way that is supportive and real, while also being fun, open, flexible, and having good energy."
Erin Roberts, England
"I've been talking about you lately and how much your coaching was a huge part of me breaking through a barrier that I've been stuck at for so long. I'm really excited to be moving forward so easily and effortlessly now with creating a life for me and my family that fills me up.
I went from overwhelm to 'can do' and I'm finally doing what I love and have wanted to do for years instead of holding myself back. You rock! You've impacted my business, well being, belief in myself, and inspired me as I grow my own contribution to the world. Thank you."
Melissa Snyder, United States
 

You hear the calling lovely – it's time to expand, release the hustle, and start living your big, beautiful life with more ease.  
Ready to step into the full radiance of who you are?
Click below to apply for a call to explore whether The Radiance Within is for you.
"I was feeling burned out, overwhelmed and like I needed to leave my job for the sake of my health and my family. I didn't have a clear vision of what business I wanted to transition into or how to balance it with my little girl.
I had consultations with several well established coaches and I hadn't had any breakthroughs.  After half an hour with her I received more clarity than in all of the other sessions, plus she made me feel supported as I took the steps we discussed.  I felt like she really cared about me, and she made me laugh during an otherwise stressful time of transition."
Kaydee Dahlin, United States
"I now have the tools to help me know myself better, manage my energy, and to work my way out of negative thinking and stress. I also now give myself permission to enjoy my life more now, not later and have since changed work, got married, and adopted a fur baby.
I recommend Catarina to anyone who is going through a period of transition and growth, and wants to do so with more clarity and more kindness towards themselves."
Danielle Bloom, United States
"Before working with Catarina I was frustrated and feeling stuck, like I would never reach a point where I could be as healthy as I wanted to be and live the life I wanted to live. I now have more confidence and trust in myself to honor and move towards my desires, and I'm doing it on a daily basis.
I recommend her to women who want more from life – this is where real change happens. When you work with Catarina you're in for some profound transformation: less stress, more clarity, and coming into balance – all in a fun way that is infused with positivity, lightness and humor."
Sandra Kiesel, Thailand
"Catarina is peace. She radiates a loving calm and compassion with every breath she takes. She is also one of the few people I've met who truly walks her talk. Working with Catarina teaches you to find and hold your center in the midst of everyday craziness — causing a ripple effect that balances and calms everyone around you."
Theresa Venezia, United States
Click below to apply for a call to explore whether The Radiance Within is for you.
"A woman is the full circle. Within her is the power to create, nurture, and transform."  
– Diane Mariechild