Discover a simple + easy practice you can incorporate so motherhood transforms from Overwhelm to a GIFT. It's free!
Discover a simple + easy practice you can incorporate so motherhood transforms from OVERWHELM to a GIFT. It's the secret to ease and it's free!  
Motherhood is a soul-enriching, heart-opening journey.
It's easy to forget this under the weight of your never-ending to do list, work deadlines, and the ever-present fear of doing something that messes your child up forever.
Whether you're just thinking about starting your motherhood journey or well into it, some days it takes every ounce of your being to hold back tears at the sheer overwhelmingness of it all…
The overwhelming love.
The overwhelming changes.
The overwhelming pressure to do it all perfectly.
The overwhelming amount of decisions, opinions, and information.
The overwhelming *everything*

Breathe mama. Lean into support and set yourself free…
Free of the guilt + doubt.
Free of the stress + busyness.
Full of the calm and connection you so deeply desire in your heart, home, and work.
And full of the clarity and confidence to mother on your terms, even if it looks different than what everyone else is doing.
Ready to step into an easier, freer, and more expansive experience of mamahood?
Welcome home, lovely.
"Catarina is a true mother of mothers. She gently, lovingly, and artfully holds women on the dance towards their highest vision and truest selves. Place yourself in the path of her guidance; you'll be so grateful that you did."
Nisha Moodley
"Catarina is revolutionizing what it means to be an awakened woman and a conscious mother through her ideas, her actions, and her  presence. Her life-long dedication to serving women and children is a gift and has already touched thousands of lives around the world, including mine.  Our future generations are in good hands."
Phoenix Muranetz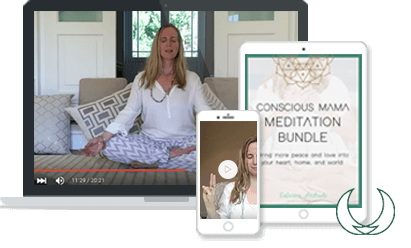 Bring more peace, love, and joy into your heart, home, and world. 
CONSCIOUS MAMA MEDITATION BUNDLE 
Bundle includes:
Meditation Basics for Busy Mamas

Mantra Magic To Deepen Your Practice

Soulful Guide to Establishing A Regular Meditation Practice You Love

6 simple kundalini yoga meditations (Cultivate Presence, Find Inner Clarity, Restore Balance, Invite Calm & Open Your Heart, Increase Focus & Commitment, Reclaim Your Power) each 11 mins or less.
Investment is $25 – Click button below to purchase!
"Catarina is peace. She radiates a loving calm and compassion with every breath she takes. She is also one of the few people I've met who truly walks her talk, living all of the things she preaches and teaches. This authenticity makes her very rare and someone I hold close to my heart.
Working with Catarina teaches you to find and hold your center in the midst of everyday craziness — causing a ripple effect that balances and calms everyone around you. One person radiating a calm, loving presence ripples out and makes for a peaceful family and world.  Catarina is, without a doubt, the catalyst for this change."
Theresa Venezia
As featured in